Long hair transplant
With the increasing cases of hair loss in India, people are opting for different hair transplant treatments. At Satya Hair Clinic, we offer the widest range of hair treatments and services for your hair. One of the most sought-after hair transplant treatments at our clinic is the long hair transplant. 
Long hair transplant is a work of precision, accuracy and surgical expertise. It is recommended by Dr. Shaiil Gupta mainly for people who have some important event or function to attend in the immediate 2 weeks period. This treatment is also suggested to people who want to minimize their social downtime and who don't want anyone to know that they underwent a hair transplant. Also by opting this, one can get the transplant done without trimming the donor area completely. 
In a long hair transplant, the hair specialist will not shave the donor area and the area where the grafts are to be implanted. In long hair transplant, the technique used is FUT (Follicular Unit Transplant). You can get in touch with the hair experts at Satya Hair Clinic to know more about the procedures and get to know which procedure will be the best in your case.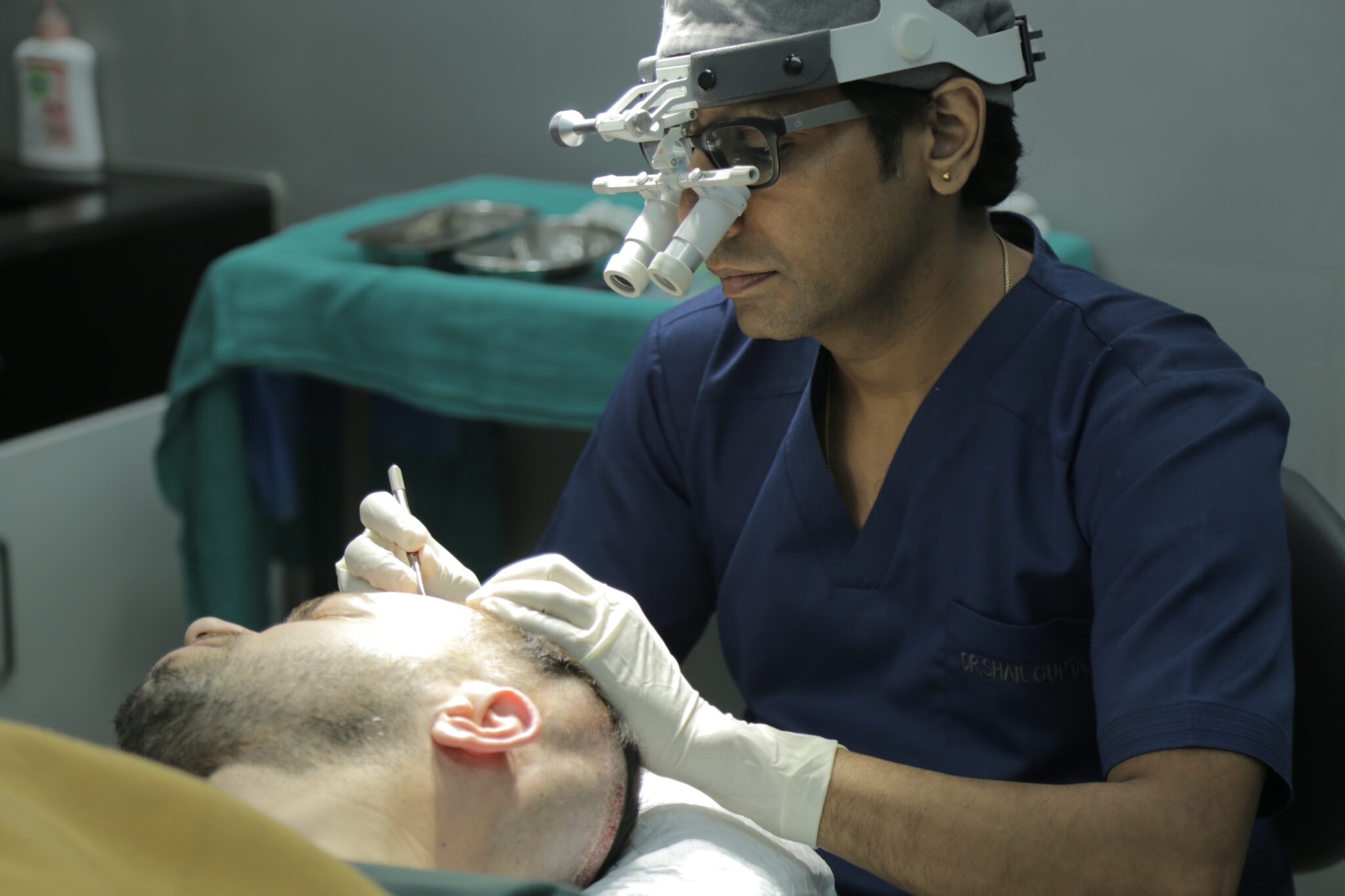 What are the benefits of a long hair transplant?
There are many benefits of choosing a long hair transplant procedure:
No downtime! As you still have your original hairstyle with minimal transplant visibility, you can return to work without waiting for it to grow properly.
Since the transplant is being done using long hair, it becomes easier to cover the scabs or redness caused due to the surgery.
It makes the social recovery time much shorter.
By the time the transplanted hairs are shed, the scabs and erythema produced during surgery will also have cleared.
Limitations of Long Hair Transplant Surgery
When it comes to the disadvantages of a long hair transplant, there is as such none if executed properly by an expert transplant doctor. Since it is a complex, surgically advanced, and time-consuming treatment, so of course not every transplant center is equipped to perform this. But there are certain things you should be aware of before opting for a long hair transplant. Since the hairs are long there is a chance of pulling out of the grafts. Also, there is a myth that in a long hair transplant, the grafted hairs will continue to grow, while in reality, they are as prone to undergo a shedding phase as any other transplant. That's why we prefer this in patients who have an important event in the coming 2-week period after the transplant. Since it is time-consuming and requires a high level of expertise and precision to ensure the best results, you will find this comparatively costlier than the other available options.
Why should you choose 'Satya Hair Solutions' for a long hair transplant?
Only a surgeon who can do a FUT transplant, who has the expertise and experience to perform complex hair transplant surgeries, and who is equipped with a highly trained transplant team should be chosen for a long hair transplant. Here are some major reasons why you should choose Dr. Shaiil for a long hair transplant treatment: Very few doctors in India perform this treatment because of the complexity involved. Dr. Shaiil is a highly skilled hair transplant specialist with years of experience in performing complex procedures such as long hair transplants. Dr. Shaiil has helped many patients suffering from hair loss gain their confidence back. Many happy customers suggest choosing Satya Clinic for a long hair transplant.
Meet our Experts to diagnose your hair loss and discuss treatments.
Unlocking the doors to your hair restoration Journey.
Explore our insightful blogs on hair loss transplant today!
Results that inspire and Transform.